| | |
| --- | --- |
| 7 Band Spectrum analyzer | |
Een spectrumanalyzer staat al erg lang om mijn todo lijstje en met behulp van een Arduino en een MSGEQ7 chip is het niet moeilijk om zo'n ding te maken.
Deze spectrum analyzer is niet bedoeld als meetinstrument, hij is puur voor de show!.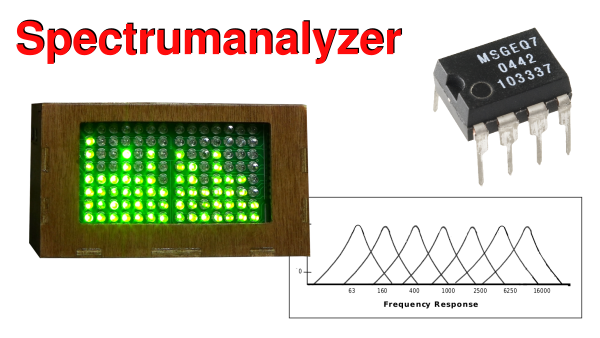 Afspeellijst
Voor dit project maakte ik een youtube playlist met 4 videos: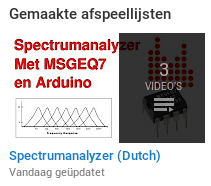 MSGEQ7
De MSGEQ7 is een CMOS-chip die het audiospectrum in zeven banden verdeelt. 63Hz, 160Hz, 400Hz, 1kHz, 2,5kHz, 6,25kHz en 16kHz.
De piekwaarden van deze zeven frequenties worden gemultiplexed en uitgevoerd als een analoge gelijkspanning.
Er zijn geen externe componenten nodig om de filter karakteristieken in te stellen, alles is intern. Er is alleen een weerstand en condensator nodig om de klokfrequentie in te stellen.
Hier is het basis schema van de MSGEQ7
Klik om te vergroten!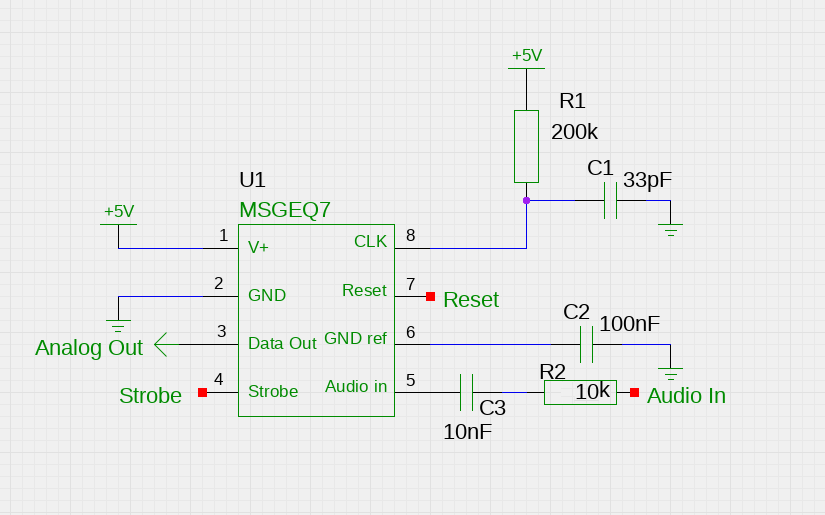 Fake Parts!!
De MSGEQ7 chip wordt gefabriceerd door het bedrijf Mixed Signal Integration (
www.mix-sig.com
), deze chip is erg populair en wordt daarom veel nagemaakt door Chinese chip fabrikanten zonder licentie afspraken, deze fabrikanten hebben dus feitelijk het ontwerp gestolen en verkopen illegale kopieën.
De kwaliteit van deze fake parts is zeer slecht. Ik bestelde 5 van deze chips (bij 3 verschillende verkopers) en slechts 2 werkte.
Dat is dus een score van 40%!..
De Spectrumanalyzer
Ik bouwde een stereo versie van de spectrumanalyzer met een eigen printplaatontwerp.
Het schema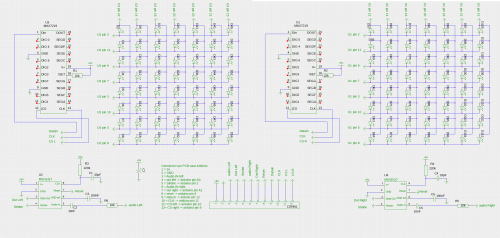 De Printplaat
Ik heb een eigen led matrix printplat ontworpen. Deze printplaat bevat 2 ledmatrixen van 7x8 leds, 2 led drivers en 2 MSGEQ7 schakelingen. Verder heeft de printplaat een grote connector om de arduino en audio ingang aan te sluiten.
Hier kun je het GEDA project downloaden
(schema en pcb)
Dit project kun je openen in de
gratis Geda Software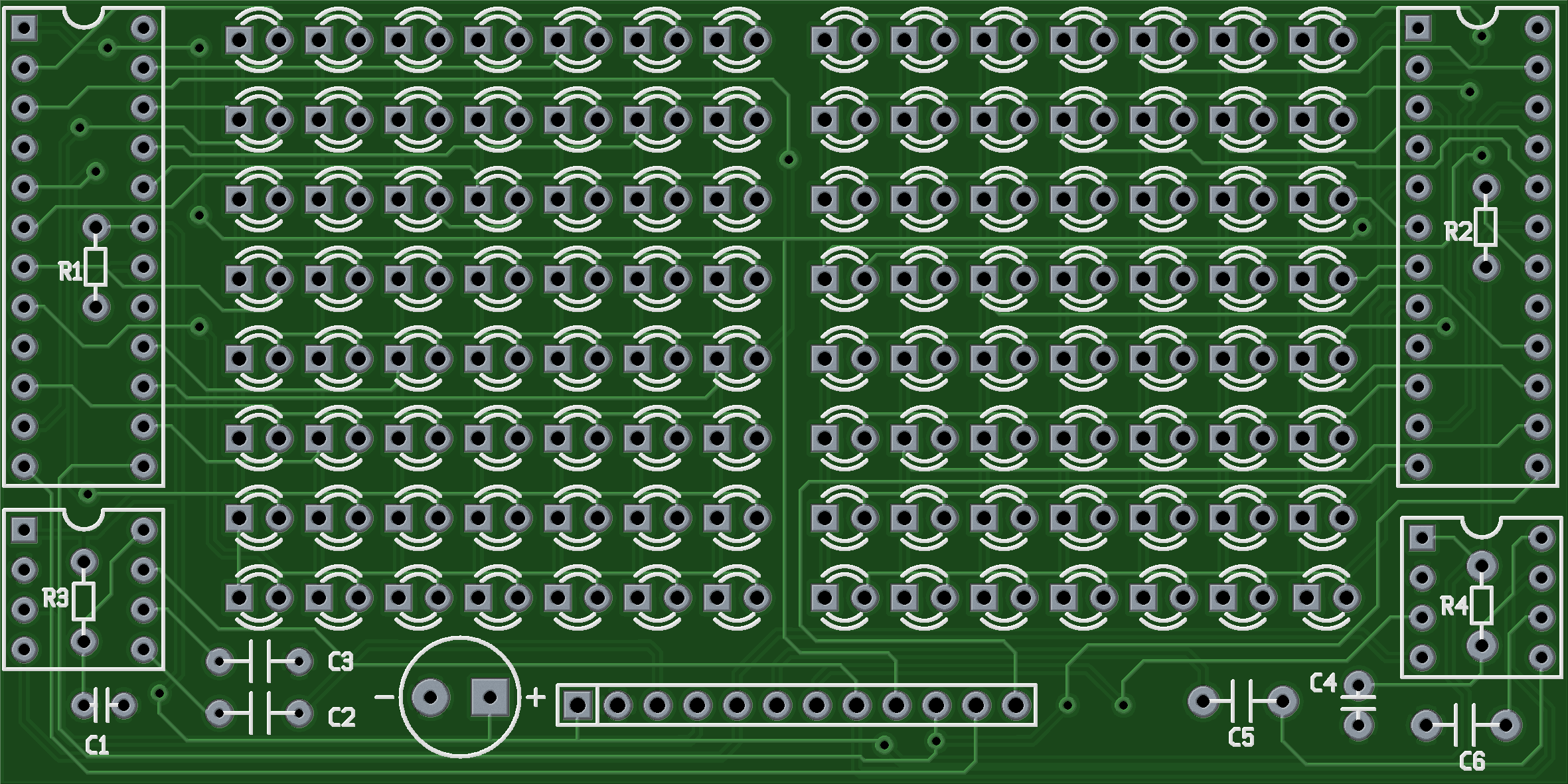 Dit is de top layer (100x50 mm)
PNG
of
PDF
Dit is de bottom layer (100x50 mm)
PNG
of
PDF
Arduino Sketch
Hier is de arduino sketch voor de Arduino Uno of Arduino Nano
Versie met MAX7219 modules
In plaats van een eigen printplaat te ontwerpen kun je ook gebruik maken van een standaard 8x8 led matrix, zoals de max7219 led matrix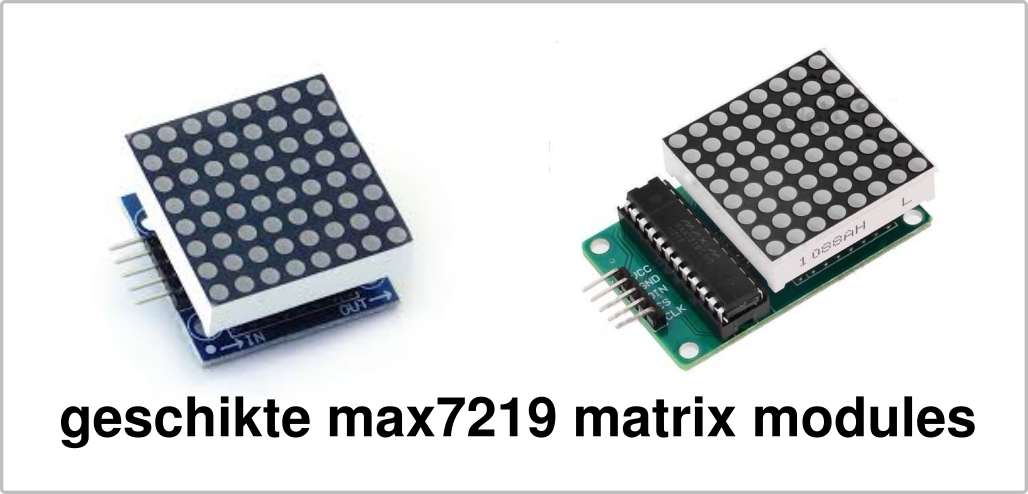 Deze optie bespreek ik in de tweede video: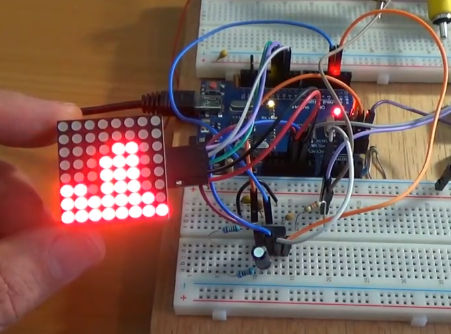 Het schema
In de video maakte ik een mono versie, hier is het schema voor een stereo versie.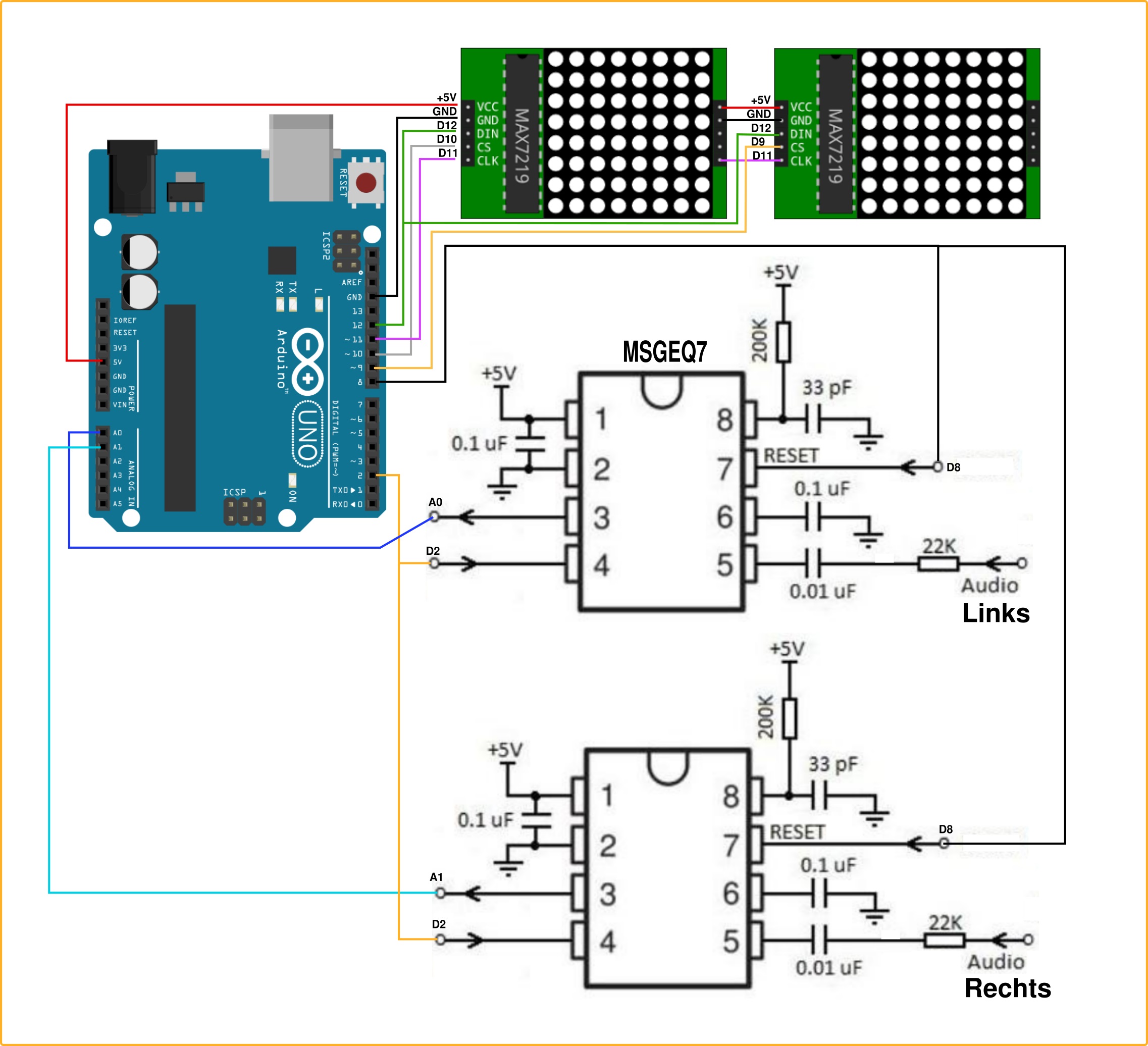 Arduino Sketch
Hier is de arduino sketch voor de Arduino Uno of Arduino Nano