Besturing over Internet
Arduino als internet client
Hoe kun je een Arduino gebruiken om iets te besturen via het Internet?
In dit artikel leg ik uit hoe je dat kunt doen. Maar!... let op! ... Als je op zoek bent naar home automation of domotica, dan zou ik eerst eens kijken naar de Rasberry Pi. Voor dat platform zijn hele mooie oplossingen te krijgen die volgens mij een stuk eenvoudiger zijn om te automatiseren. De Rasberry Pi 3 heeft standaard netwerk (bekabeld) en WiFi, dat maakt het erg makkelijk.
Scope van dit project
We gaan het dus niet hebben over volledige home automation.
Ik ga je laten zien hoe een Arduino gegevens van internet kan halen en daar iets mee kan doen.
In dit voorbeeld maken we een display die weergeeft hoeveel mensen er op dit moment in de ruimte zijn.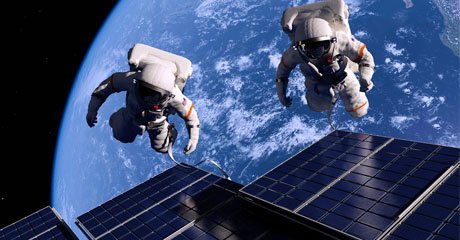 Bedraad, Goedkoop en eenvoudig
Eerst kijken we naar een bedrade oplossing, we gebruiken deze module.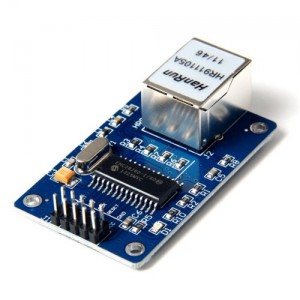 De ENC2860 ethernet module is een goedkope oplossing waarmee je arduino projecten aan het netwerk kan verbinden.
Voordelen:
+ Goedkoop
+ Klein
+ Werkt met 5 volt logica (geen 3.3 volt conversie nodig)
Nadelen
- Niet draadloos
- Geen TCP/IP Stack intern (zie tekst hieronder>
Deze heeft geen TCP/IP stack aan boord, dat wil zeggen dat de afhandeling van het netwerk verkeer volledig overgelaten word aan de Arduino. Dat kost behoorlijk wat ruimte in het programmageheugen en ook wat processor kracht.
Sketch 1
De eerste sketch (zie video) gebruikt de seriele monitor en laat het begin en einde van de spakketjes zien
Dit helpt om te analyseren in wel pakket de data zit.
De bron is
www.howmanypeopleareinspacerightnow.com
Sketch 2
De tweede sketch is het complete project met
www.howmanypeopleareinspacerightnow.com
als bron.
Sketch 3
Het ophalen van de data is niet erg dynamisch of intelligent, als het formaat van de bron data een beetje verandert werkt het niet meer.
Daarom vertrouw ik liever op mijn eigen pagina. Ik heb een eigen pagina gemaakt die de data ophaalt vanaf howmanypeopleareinspacerightnow.com en weergeeft in een heel eenvoudig formaat.
Zie
http://bartvenneker.nl/Arduino/peopleinspace.php
.
De derde sketch is het complete project met
http://bartvenneker.nl/Arduino/peopleinspace.php
als bron.
Ik heb nog even een eenvoudig front paneeltje gemaakt, van karton.
Hier een foto van het eind produkt (tot nu toe).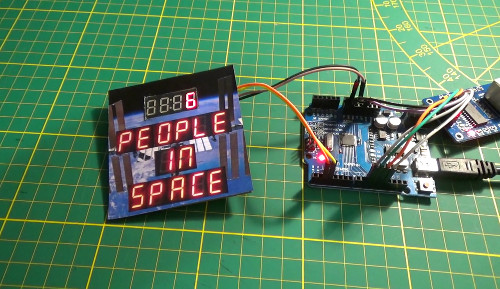 De PHP Code
De arduino raadpleegt dus een php pagina op mijn eigen website.
Deze pagina haalt de gevens op van
www.howmanypeopleareinspacerightnow.com
en geeft die weer in een vereenvoudigde opmaak.
Dit is de php code van die pagina:
---
<?php




date_default_timezone_set

(

'Europe/Amsterdam'

)

;




$localtime

 

=

 

localtime

(

)

;





$url

=

'http://www.howmanypeopleareinspacerightnow.com/peopleinspace.json'

;




$jsontxt

=

@

file_get_contents

(

$url

)

;

 




$json

=

json_decode

(

$jsontxt

,

true

)

[

'number'

]

;

 





echo

 

"pis="

.

$json

.

";"

;




echo

 

str_pad

(

 

$localtime

[

2

]

 

,

2

,

"0"

,

STR_PAD_LEFT

)

 

.

 

str_pad

(

 

$localtime

[

1

]

 

,

2

,

"0"

,

STR_PAD_LEFT

)

 

.

 

";"

;




echo

 

"

\r

\n

"

;




echo

 

"<br>"

;





?>



---
Deel 2, Wifi.. Eindelijk draadloos
In deel 2 maak ik dit project opnieuw maar dan draadloos.
Ik maak gebruik van deze ESP2866 wifi serial module.
Hier is een ebay link naar die module:
Link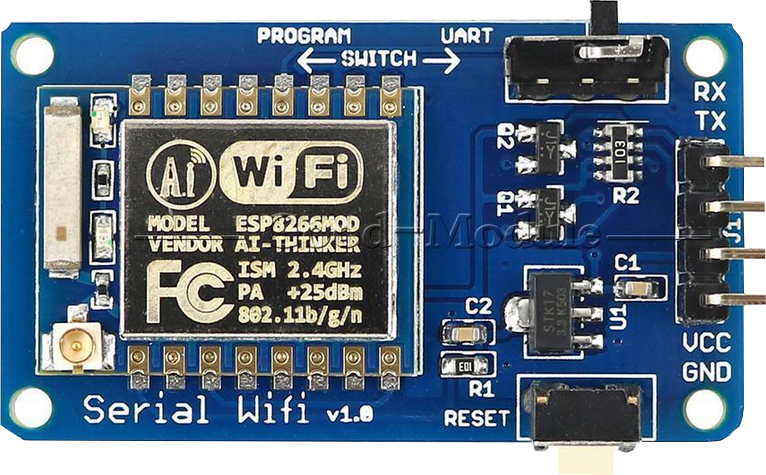 Sketch 1
In de video gebruik ik 2 sketches, dit is de eerste
Sketch 2
En hier is de tweede,
AT Commandos
Voor een volledige lijst met commando verwijs ik je graag de ESP8266 documentatie:

In de video gebruik ik de volgende commandos
Commando
Uitleg
AT+RST
Reset de module
AT+UART_DEF=9600,8,1,0,0
Configureer de module om te communiceren op 9600 baud, 8 databits, 1 stop bit, geen parity en geen flow controll
LET OP: Gerbuik geen spaties in dit commando
AT+CWMODE=n
n=1 : Station mode (client) [deze gebruik ik]
n=2 : AP Mode (Server)
n=3 : Beide
AT+CWLAP
Geeft een lijst met wifi netwerken in de omgeving
AT+CWJAP="ssid","password"
Aanmelden bij netwerk. ssid is de netwerknaam, password is het wachtwoord
AT+CWQAP
Afmelden bij een netwerk
AT+CIPSTART="TCP","bartvenneker.nl",80
Zet een TCP verbinding op met host bartvenneker.nl op poort 80
AT+CIPSEND=69
Stuur 69 bytes aan data in de nnu volgende tekst
GET http://www.bartvenneker.nl/Arduino/peopleinspace.php HTTP/1.0
Deel 3, sd Card reader voor configuratie
Wat nu als het wachtwoord of de ssid naam van de wifi veranderd? Dan moet je de wifi module opnieuw kunnen configureren.
Om dat mogelijk te maken koppelen we een sd card reader aan de arduino.
Bekijk de video!
voor de duidelijkheid: die sd card is dus slechts tijdelijk nodig, alleen om de module te configureren. Daarna mag je de sd card weer voor andere dingen gebruiken.
Sketch in deze video
Update, september 2017
Mijn website is door mijn provider verplaatst naar een andere server (in een ander datacentrum zelfs), lang verhaal kort: de response die arduino krijgt is nu een beetje anders waardoor mijn code niet helemaal goed meer werkte,
Om dat op te lossen heb ik de volgende regel toegevoegd in de code (zoek het maar op in de code hierboven)
if (cv=='=') {o=0;}